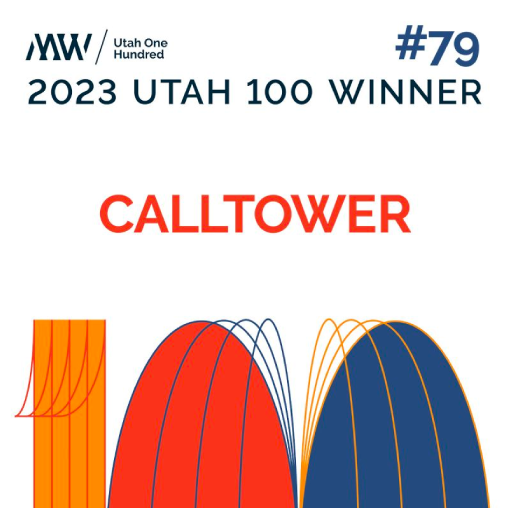 SALT LAKE CITY, UT, ROCHESTER, NY— October 26, 2023 — CallTower today announced it was named to the 2023 Utah 100, MountainWest Capital Network (MWCN)'s annual list of the fastest-growing companies in Utah and was honored at the 29th annual Utah 100 Awards program, held at the Grand America Hotel in Salt Lake City.
"Utah's dynamic business landscape is a testament to innovation and commitment", quoted CallTower CEO Bret England. "At CallTower, we're honored to be a part of this thriving community, and we're dedicated to continuing our mission of delivering cutting-edge communication solutions that empower businesses to grow and succeed."
"We congratulate all of this year's Utah 100 companies for building outstanding businesses and making strong contributions to Utah's economy," said Jason Roberts, Chairman of the MWCN Utah 100 committee. "These companies further advance Utah's standing as an excellent place to do business."
Recipients of the Utah 100 were chosen by the percentage of revenue increase of each company between 2018 and 2022.
Since its inception in 2002, CallTower has evolved into a global cloud-based, enterprise-class Unified Communications, Contact Center and Collaboration solutions provider for growing organizations worldwide. CallTower provides, integrates and supports industry-leading solutions, including Zoom (BYOC), Zoom Phone, Operator Connect for Microsoft® Teams, Teams Direct Routing, GCC High Teams Direct Routing, Office 365, Cisco® Webex Calling / UCM, Cisco® CCPP, CT Cloud UCaaS and four contact center options.
For more information, contact marketing@calltower.
About MountainWest Capital Network
MountainWest Capital Network (MWCN) is the largest business networking organization in Utah, consisting of entrepreneurs, venture capitalists, consultants, legal professionals, bankers, and educators. MWCN seeks to promote and recognize business growth and capital development in the state through a variety of award programs and activities.